If your HRBYCA member club would like special club events listed here, send event details and contact links to info@hrbyca.org – Thanks, Keira, webmaster

2019 HRBYCA Rendezvous at Shattemuc Yacht Club
August 16, 2019

-

August 18, 2019
Dear HRBYCA Clubs:
On behalf of your HRBYCA Board and in support of our goal to promote inter-club activity, the HRBYCA Summer Rendezvous and Barbecue at Shattemuc Yacht Club (SYC) will be held on Saturday, August 17 in Ossining, NY.
The Rendezvous will give us the opportunity to enjoy cruising on the river and the camaraderie of fellow HRBYCA club members, and we hope spark renewed interest and enjoyment in gathering as a group each summer.
The plan is to for HRBYCA club members to cruise to SYC on Saturday and enjoy the club's great amenities, including a protected marina, Olympic style pool (lifeguard) and kiddie pool, sandy beach, fabulous shaded veranda, clubhouse, and clubhouse bar. We greatly encourage you to bring family members as the club has something for all ages. Saturday evening we'll gather for a barbecue including hors d'oeuvres and cash bar.
One night's dockage is provided complimentary (reciprocal) to HRBYCA club members. Anyone wishing to travel early and arrive on Friday is most welcome but dockage is additional.
Here's the schedule of events:
Friday, Aug. 16:
Early bird arrivals (overnight dockage fee required); on your own to enjoy nearby restaurants (The Boathouse, No3 Westerly Bar and Grill are both very walkable; reservations recommended)
Saturday, Aug. 17:
All day: Arrivals at will to SYC and freedom to enjoy amenities at your leisure. Complimentary (reciprocal) dockage offered and RSVP registration is required.
5:00pm: Social Hour: Hors d'oevres served on the SYC clubhouse veranda; cash bar.
6:00pm: Barbecue dinner to include burgers, chicken, hot dogs, salads, sides, non-alcoholic beverages; $20 per person; cash bar; you MUST register for Barbecue.
Evening: Party with SYC members at clubhouse and docks; SYC floating dock project showcase (short informational discussion on docks).
Sunday, Aug. 18:
Morning TBD: potential raft-up at Croton Point (great sandy beach)
Departures for home
RSVP: Deadline to register is August 15. 1.) Go to Shattemucyc.org and on the right side midway down see calendar: HRBYCA Summer Rendezvous and Barbecue at SYC. 2.) Click to register for the Barbecue, $20 per person, to be paid by mail or online, and 3.) Use the slip coupon code provided on registration page to proceed to the club's Dockwa.com website slip reservation page. One night's complimentary dockage is provided courtesy HRBYCA reciprocity and compliments of SYC. Regular rate is $2.50/foot is charged for any other nights.
Additional Trip Planning info:
SYC website: http://www.shattemucyc.org/
Address: Westerly Road, Ossining, NY 10562
Telephone 914-941-8777
Lat 41'09'45″N, Long 073'52'15″W
Fuel: 1.) Panco Fuel Dock, Stony Point: located 0.3 miles north of red buoy #26 along southern shore of Stony Point Bay (Adjacent to Penny Bridge Marina). Look for the large white fuel tanks with a sixty-foot long sixteen-foot high red "Panco" sign on the side. 41º 13.30 N – 73º 57.56 W; 2.) Haverstraw Marina Fuel Dock, Haverstraw: located 260º Off Red Buoy #26, about 11 nautical miles north of the Tappan Zee Bridge, monitors VHF Channel 09.
Things to do and see in Ossining:
Local restaurants (very walkable):
The Boathouse, https://ossiningboathouse.com/ (2 min walk)
No. 3 Westerly Bar & Grill: https://www.3westerly.com/ (5 min walk)
Rain Date: At this time we are unable to schedule a rain date, so this event will only be cancelled if there is snowstorm, hurricane or earthquake.
Your board is also welcoming for volunteers to join the Rendezvous planning committee so please email dscroft3@gmail..com  if interested.
We thank you in advance for your support and look forward to seeing you! Our thanks to SYC for being gracious hosts, donating their members time, and working to ensure the event is a success!
Sincerely-
HRBYCA Summer Rendezvous Planning Committee
S. Croft, C. Young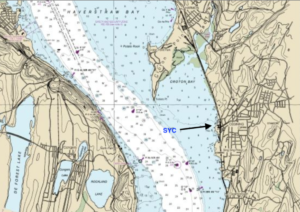 HRBYCA meetings, of the member clubs, are held on the last Tuesdays of January, March, May, July, September and November. All members of HRBYCA member clubs are welcome to attend and take part in any discussions. Beginning at 8pm, the meeting locations vary among our member clubs, so check this website or our Facebook page for updated meeting announcements.
HRBYCA Regular Board of Directors (BOD) meetings are scheduled on the last Tuesdays of February, April, June, August, October, and December. All Members of HRBYCA are welcomed to attend and take part in any discussions. Beginning at 7pm, meetings are held at various locations. You may contact any Board member for updated BOD meeting information.
PLEASE NOTE: Scheduled meeting may change without prior notice or posting to the site.